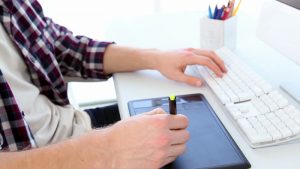 Utilizing expertly-crafted graphic designs to create an overall image of your business for the world to see certainly plays an integral role in establishing your position in the marketplace…and not only.
A successful design starts from a professional logo appearing across all your platforms aimed at perfectly representing your company profile, building its identity, boosting commitment among employees and maintaining loyalty from customers.
Our design experts are here to help you in making that possible! At CyTechnology, we can offer you professional assistance with:
Branding: Design is a very important step in developing a brand image which is attractive, professional and ideal, to reflect the products and services which you offer and target the right audience.
Stationery: Handling your business cards, gift vouchers and all promotional giveaways counts even more when they boast a friendly design to meet expertise and trust.
Promotional Gifts: Keep a warm connection between you and your clients with your own custom-made "Thank You" gifts for their vote of confidence and commitment towards your services and/or products.
Advertising: Generate more sales and expand brand awareness with a well-designed ad banner, poster and/or flyer for your website, social media, street signs, magazines and palpable leaflets, to name a few.
Here are some ideas:
Logo Design
Logo Re-Design
Labels
Stickers
Business Cards
Letterheads
Compliments Slip
Invitations
Post Cards
Envelopes
Promotional Gifts
Flyers
Posters
Banners
Web Banners
Magazine Ads
Newspaper Ads
Social Media Ads
Newsletters
Contact us today to find out more on how we can help you select the right design to perfectly represent your products and services to ensure employee commitment and customer loyalty.