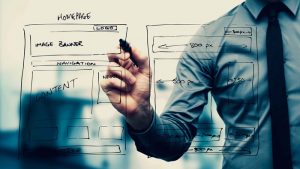 Our Web Design & Development service creates an affordable, dynamic and custom-made visual identity of your products/services, guaranteed to optimize your online presence worldwide.
At CyTechnology, we promise:
To create a unique website for your business, optimised especially for your visitors to quickly find what they were looking for
To revamp the design of your existing site and improve its functionality
To provide you with an excellent selection of web applications so that you remain at the forefront of innovation and ahead of competition
To offer valuable and affordable web design services without compromising on quality
To utilise innovative technologies and state-of-the-art programming languages, including PHP, Flash, CSS and HTML
Our Web Design & Development process
Brainstorming: Before launching a project, our team leaders will brainstorm with you to focus on and determine what the key objectives of your site are. Remember, your priorities are our priorities!
Assimilation: Together, we use this time to gather and assimilate information about your business and products/services offered according to your current marketing strategy as well as your future ambitions.
Cost and time: This first phase also allows us an accurate assessment of cost and time needed to create your website.
Roadmap: Having reached a negotiable agreement with the creation/revamping of your website, we release a 'roadmap' which will be followed during the entire construction/revamping process.
Design: After determining what the best possible website style and structure is, based on your goals and marketing activities, we will optimise a simple and clear navigation so that your visitors enjoy the full experience of your website, and dedicate great importance to optimise your site for SEO purposes.
Consultation: Here, we offer you our professional advice on the best web techniques to improve your website, top search engine results, attract new clients, retain existing ones, and much more. Our consultation will save you time and money, and help you generate more revenue for your business.
See also Internet Marketing, Social Media, Search Engine Optimization (SEO), Web Hosting and Web Management to get other ideas on additional methods you can use to further boost your online presence through our range of services,
To find out more on how you can benefit from our Web Design & Development expertise, contact us today!