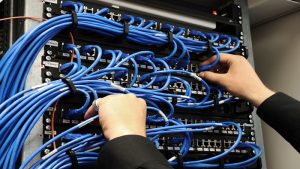 A well-designed, reliable and scalable CAT6 structured cabling system or fibre infrastructure for your data and voice applications are crucial to achieve the very best from your IT systems.
We are here to help you do this by providing your business with a well-designed and excellently-structured installation to your cabling systems to suit your current level of network traffic, with expandability to cater for future growth.
CyTechnology's experts specialise in integrating voice and data cabling infrastructures to deliver improved efficiency and a solid, profitable return on investment and service.
Contact us to enquire about our structured cabling health check for any of your existing network requirements including testing, repair or replacement.
Contact us for more information on how we can provide you with cabling solutions.