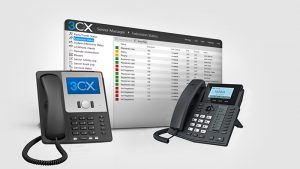 Our team of experts here at CyTechnology utilises the popular, award-winning 3CX IP telephone system, a mature software-based Private Branch Exchange (PBX) for Windows, which works with IP Phones, Session Initiation Protocol (SIP) trunks and Gateways.
3CX IP Telephone system is:
Easily scalable
User-friendly
Easy to manage and configure
Simple to integrate with familiar tools such as Office 365, Google, Outlook and others
By utilising the 3CX IP telephone system, allows you:
To connect remote offices using bridges therefore cutting costs
Free calls between colleagues thus reducing interoffice call charges
Extremely cheap external calls thus eliminating high outgoing call charges
This way, businesses not only benefit from reduced costs on maintenance, line rental, and call charges overall, however avail from enhanced relations with their customers and, ultimately, boosts overall customer satisfaction.
3CX IP telephone system is also a unified communications (UC) solution thus linking applications such as web conferencing; presence management; softphone; and smartphone clients, to name a few. Providing businesses with this cost-saving UC platform, we also help you eliminate the hassle and heavy costs of using and managing old proprietary hardware to handle:
Colleague Presence
Fax
Voicemail
Email
Instant Messaging
Web Conferencing and much more
The 3CX IP telephone system also offers plug and play capabilities on its powerful softphones thus granting mobility through the Internet rather than on traditional PBX phone systems, which are well-suited for Mac, Windows, iOS and Android platforms.
This offers you the options to connect into the network and conduct your business calls through your softphone or even through your smartphone, home desktop, and laptop via your office extension.
All of these options will help reduce mobile costs while increasing employee productivity and mobility…at no extra cost!
Contact us now to speak to one of our experts for more information on how your business can benefit from our VP/PBX services and the well-known 3CX IP telephone system.­­­­­­­­